Free FTP Server Software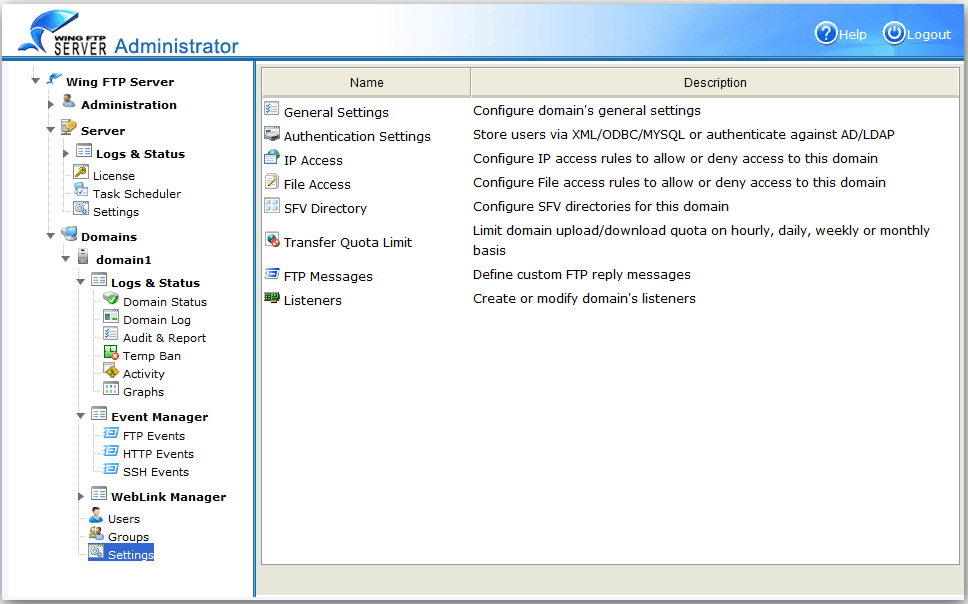 Wing FTP Server is an easy-to-use, secure, powerful, and free FTP server software for Windows, Linux, Mac OS, and Solaris. It supports multiple file transfer protocols, including FTP, FTPS, HTTP, HTTPS, and SFTP, giving your clients flexibility in how they connect to the server. And it provides administrators with a web-based interface to administrate the server from anywhere. You can also monitor server performance and online sessions and even receive email notifications about various events taking place on the server.


Download Purchase Online Demo Screenshots Release Notes

Free Edition
After the trial period, you can continue using it as a Free edition for non-commercial use.

Multiple Protocols
Support FTP, FTPS, SFTP, and HTTP/S web-based client. Free client FTP Rush for FTP/SFTP file transfer.

Cross-Platform
You can run this FTP server software on Windows, Linux, Mac OS, and Solaris.

Web-Based Administration
Just with a web browser, you can administrate the server anytime, anywhere.

iOS & Android App
This Android / iOS App helps mobile phone user transfer and manage remote FTP files easily.

Event Manager & Automation
Use the event manager to execute Lua script, send an email notification or run 3rd party program.

High Availability Cluster
Wing FTP can be clustered by Wing Gateway to deploy a simple load balancing solution.

Weblink & Upload link
Share files or request files with just a web link, and then anyone can get/send files without login.

Database & LDAP
Store user data via XML files or ODBC/Mysql database, also support Windows AD/LDAP authentication.

Secure File Transfer
Encrypted file transfer via FTPS (FTP over SSL), SFTP (FTP over SSH) and HTTPS protocol.

FIPS 140-2
Uses OpenSSL FIPS 140-2 validated cryptographic module (certificate #1747).

Anti-Hammering
It offers you the possibility to prevent hammering (brute force attacks) login system.

IP-based Access
Configure IP access rules to allow or deny access to the FTP server.

Accounts Expiration
Do not let old accounts be available forever; just set them an expiration date.

SFV Checker
Provide fast SFV checking on the server-side to verify the integrity of files.

Password Policy
Set minimum password length and complexity, or force changing password on first logon.

Access Schedule
Setup the time of day that you want to allow user account to logon.

HTTP to HTTPS Redirect
You can force the web client to redirect to its secure URL automatically.

Web-based Client
Web file transfer via a web browser anytime, anywhere.

Multiple Domains
You can run multiple virtual servers on the same IP address.

Ratio/Disk Quota
Every user can be assigned individual disk quota, ratio, and bandwidth.

Task Scheduler
Use your Lua Scripts tasks to appoint an action at a specified time.

Lua API
Provide a set of APIs that can be called in Lua scripts or RESTful web service.

IPv6 Support
You can add IPv6 listeners or IPv6 access rules like IPv4.

Virtual Directories
Allows you to map virtual directories to physical directories, and you can also use UNC path or mapped drives for virtual directories.

Audit & Report
All the FTP transactions will be captured into a database, you can analyze it and generate reports in real-time.
Multiple Languages
Support 15 languages - English, Français, Deutsch, Italiano, Türkçe, Český, Română, Nederlands, Português, Español, 简体中文, 繁體中文, 日本語, 한국어, Polski.