Setup an FTP reverse proxy in two steps
2020/02/29 21:42 Posted by admin
Today, let's talk about how to set up an FTP reverse proxy. First, assume that you have already installed Wing FTP Server and Wing Gateway. If you setup Wing Gateway in the demilitarized zone (DMZ), then there is no need to forward any port in the firewall, just configure something under WingFTP's web admin like the following steps:
1. Add a reverse proxy for FTP listener, navigate to "Domain -> Settings -> Listeners." Double click on an existed FTP listener, then select Wing Gateway host and input a port which Wing Gateway will listen on (normally you can specify the same port 21). If there is no Wing Gateway added, please add a gateway under "Server -> Settings -> Gateway Manager" first.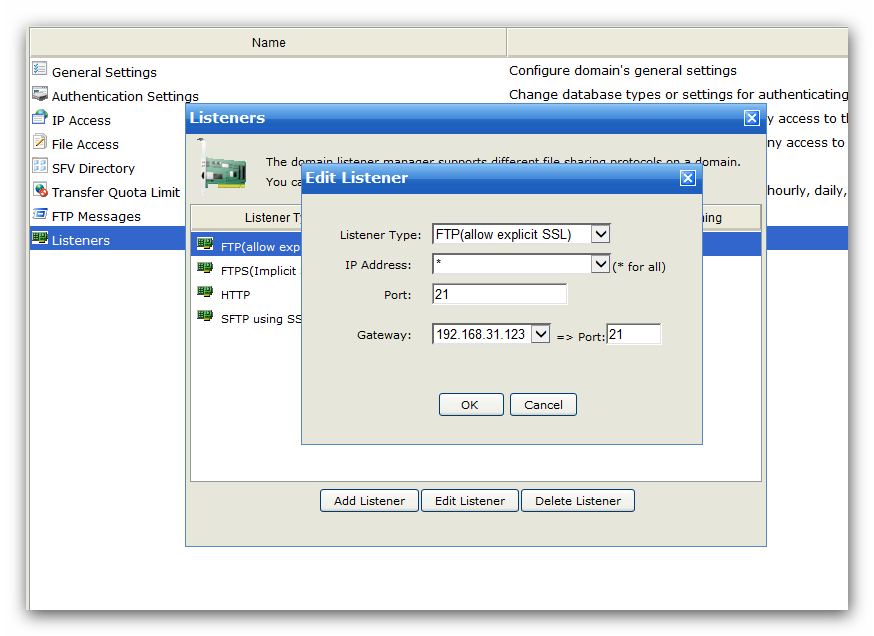 2. Unlike HTTP/SFTP protocol, the FTP protocol not only needs the primary FTP listener but also requires the passive data listeners enabled. So firstly, you can specify a passive port range (such as 9000 – 9100) under "Domain > Settings > General Settings > FTP Passive Mode," and then check on the option "Map the Passive mode ports automatically in Wing Gateway."
Finally, FXP feature also should be enabled under "Domain > Settings > General Settings > Miscellaneous > Enable FXP".
That's it, and now external clients can connect to your FTP Server via Wing Gateway.